England icon David Beckham has handed over England's 2018 bid book to FIFA President Sepp Blatter at a conference in Zurich.
The LA Galaxy player was joined on stage by FA Chairman Lord Triesman, 2018 chief executive Andy Anson and FIFA vice president Geoff Thompson.
Beckham said: "We have a lot of passion, football is something which runs through our veins. As you will see by our bid book we have a lot of passion for the game and bringing the biggest sporting event in the world to our country. As a player you always dream of playing in the World Cup in your own country so you will see the emotion this will bring to us and our fans. This is something that runs through our country and through our veins."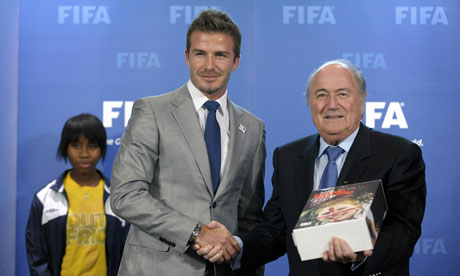 Blatter also revealed after the handing over that he had received a call from new Prime Minister David Cameron backing the bid. The new PM stated that "..football was the national sport and people in England were extremely passionate about football."
The event also saw bids from Netherlands/Belgium, Russia, Spain/Portugal, USA and Australia submitted for 2018. In particular, the Dutch/Belgium bid caught the eye after Ruud Gullit and other bid officials entered the building on bicycles. With a European bid tipped to win, all eyes will be on the progression of the four European campaigns before the December vote.